Darkness fell on North Melbourne's Meat Market before DMA'S arrived on stage. The show opened with Tommy O'Dell's distinct vocals and Johnny Took's acoustic guitar on the quiet opening of "So We Know". At the song's crescendo, guitarist and backing vocalist Matt Mason and the three members of DMA'S touring band joined to complete "So We Know" in a fully lit stage. With the whole band assembled, they played "Feels Like 37", a favourite from their eponymous EP.
Clad in a white turtleneck and a panel cap, O'Dell looked like the epitome of dad style rather than the frontman of a band that received international acclaim for its cover of Cher's "Believe" on Triple J. While O'Dell kept his stage banter to a minimum, the Sydney band seemed at home in Melbourne, graciously thanking the audience between songs.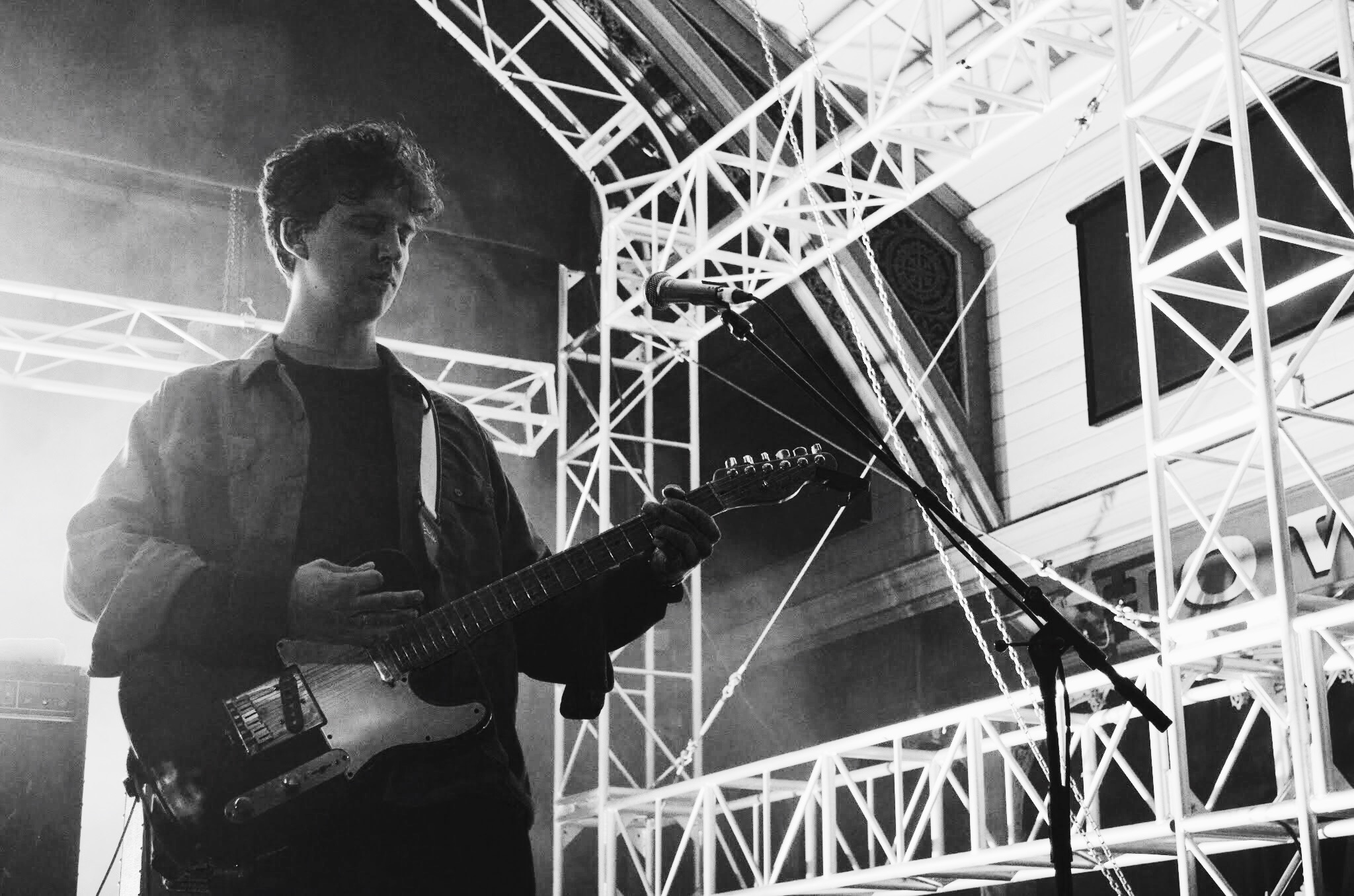 I hadn't known what kind of energy to expect prior to the show, not the least because DMA's is better known for emotive acoustic tracks than for stadium bangers. Songs like "Too Soon" proved that DMA'S live shows are well capable of commanding a room and invigorating an audience.
With an album forthcoming, it's inevitable that DMA'S would play a few new songs. With Took's guitar prominent at its outset, the new song sounded more country than rock. As is often the case when a band debuts tracks, the crowd was less engaged than when DMA'S played fan favourites. Within a few notes from the start of "Melbourne," the energy level surged again. Though I wouldn't consider "Melbourne" a standout on the stellar album Hills End, the audience responded with enthusiasm for the song named for their city.
"Timeless" showcased the band's instrumental synergy. The song had a richness and depth that exceeded its recorded version. While Mason took the vocal lead in the latter half of the song, O'Dell interacted with the audience. In contrast with his reserved addresses to the audience between songs, he was physically commanding during. He spread his arms to the hundred of hands stretched out before him.
"In the Moment," too, was an instrumental standout with dissonant guitar coupled with Took's prominent acoustic. The sound faded into the quiet opening verses of acclaimed single "Delete". The band was silhouetted on a dark stage until a burst of light met the song's euphoric final chorus.
DMA'S latest single "Dawning", the lead for their forthcoming album, made a fitting follow up to the band's early single "Delete". Though it had only been released a month prior, it was met with enthusiasm. "Step Up the Morphine" became a singalong that created a community out of the Meat Market. "Laced" faded to dissonance to close the first part of the show.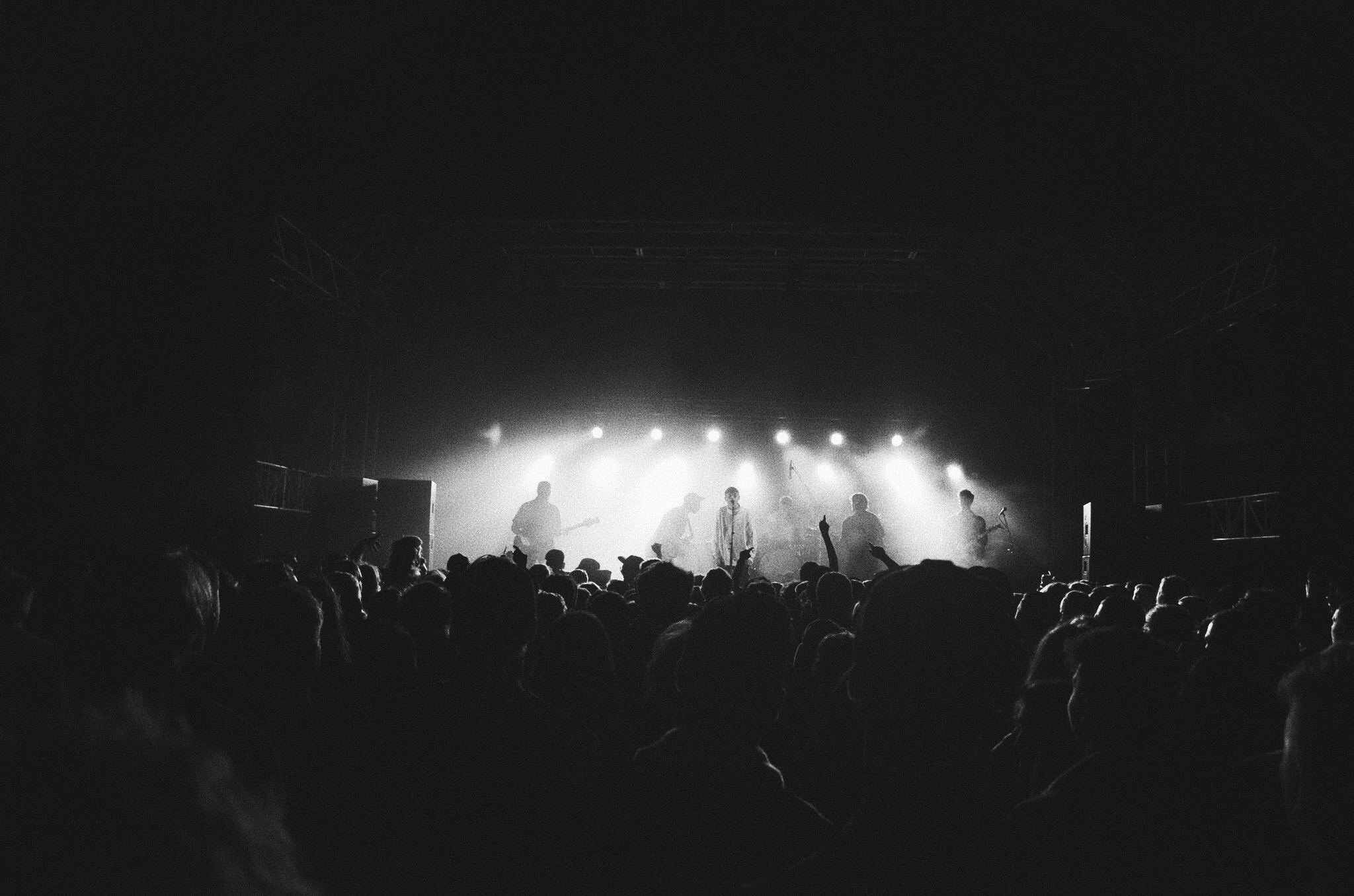 The band returned for "Play It Out". As the closing track on Hills End, it made a fitting encore. While it's not as well known or catchy as some of DMA'S singles, it's an instrumental standout in their discography and their live show. The band's most famous track "Lay Down". was the perfect choice to close the show. After one last final dance and singalong, DMA's bid their audience farewell. From their musicianship to their energy level, DMA's exceeded all of my expectations.
Photos by Ryley Clarke.
This review was originally posted on Savage Thrills.